October 2021
Spawning season 2021 up and running
October-December is the big spawning season for the coral genus Acropora in Moorea, providing exciting research opportunities to study the early life history stages of this genus. This month, the CoralMates team is raising larvae from Acropora cytherea and is studying the importance of bacteria in the coral settlement process. Bacteria, especially those in biofilms, play an important role in emitting cues for coral larvae. Environmental conditions can change bacterial biofilm communities and in turn affect settlement of coral larvae. To assess relationships between settlement rates and bacterial community composition, the team is running settlement experiments on biofilms from different habitats.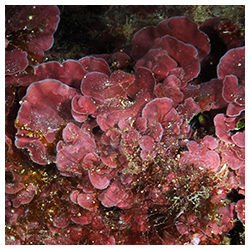 September 2021
Genetic characterisation of crustose coralline algae
Despite their ecological importance, crustose coralline algae (CCA) are often overlooked or ignored due to their complex taxonomy. Their reproductive and vegetative structures provide the critical anatomical characters used in taxonomy, but also create major obstacles for researchers, since complicated decalcification techniques and microtome sectioning of infrequently present cryptic features are required.
This month, the CoralMates team is collecting CCA specimens at several sites around the island of Moorea. Specimens are provisionally identified to species level in situ and collected. Back in the laboratory, each specimen is divided in two fragments. One fragment will be screened for the commonly applied markers which are group specific including two nuclear loci (SSU and LSU), one plastidial (psbA) and one mitochondrial (COI) genes. Claude Payri will be in charge of the genetic analyses. The second fragment is further characterized morphologically and kept as voucher.
This combination of morphological and molecular approaches should enhance coralline algal diversity knowledge in French Polynesia with potentially new described species. The collection will be illustrated in a dedicated atlas on most common coralline species from Moorea.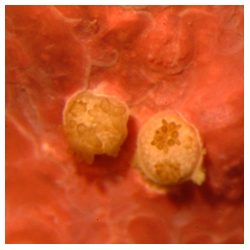 July 2021
New paper in Scientific Reports
Crustose coralline algae (CCA) are a group of calcifying red algae commonly found in coral reefs worldwide. They act as highly inductive settlement surfaces for corals. However, the chemical and microbial properties of CCA that induce coral settlement are still poorly known.
In this paper, we combine information on the microbiome and metabolome of six CCA species to explore how larvae of the coral species Acropora cytherea perceive chemical and microbial signals from these algae and their associated bacterial communities.
First, we show that one species of CCA (Titanoderma prototypum) significantly promotes coral settlement on its surface and that this species also has a very distinct bacterial community and metabolomic fingerprint. These results support the hypothesis that the distinct microbiome and metabolome of this species may promote the settlement and attachment of coral larvae.
Secondly, we found that coral settlement rates and the microbiome and metabolome of the algae are specific to the CCA habitat (exposed, subcryptic or cryptic), which suggests that microbes and/or chemicals could serve as environmental indicators for coral larvae seeking suitable habitat and substrate.
Our study increases our knowledge of the metabolome and microbiome of crustose coralline algae and provides a basis for future research into the role of microorganisms and metabolites in the fine-scale dynamics of coral recruitment.
Well done Hendrikje!
Citation: Jorissen H, Galand PE, Bonnard I, Meiling S, Raviglione D, Meistertzheim A-L, Hédouin L, Banaigs B, Payri CE, Nugues MM (2021) Coral larval settlement preferences linked to crustose coralline algae with distinct chemical and microbial signatures. Scientific Reports 11: 14610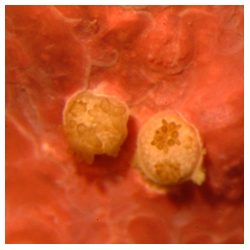 Coral settlers on the crustose coralline alga Titanoderma prototypum, a well known settlement-inducer.
Photo: R. Steneck
Crustose coralline alga photographed in situ. These algae are notoriously difficult to identify.
Photo: M. Nugues
April 2021
Coral larvae on the move: Algal effects on larval swimming behaviour
Pierre-Louis Rault, a Master student from the Ecole Pratique des Hautes Etudes (EPHE), joined the CoralMates team to do his Master thesis in January 2021. His goal is to study the effects of algal exudates on the behaviour of coral larvae. He is filming coral larvae swimming inside small home-made tanks which are filled with different algal exudates. To obtain the exudates, algae are collected from the reef and incubated in seawater for several hours in the laboratory. Incubated seawaters are then introduced in the aquaria together with coral larvae. Using the videos, Pierre-Louis is able to analyse larval swimming speed and various types of behavioral displacements. He will then determine how these metrics vary in response to the different algal exudates. This month, he started his first series of tests on larvae released by colonies of Pocillopora damicornis during the new moon.
Click here to download a video of coral larvae swimming in an experimental tank. To give you an idea of the size of a Pocillopora larva, the tank size is 5 cm x 5 cm x 1.2 cm (L x H x W).
Click here to download a close-up video of swimming coral larvae
Videos: P-L. Rault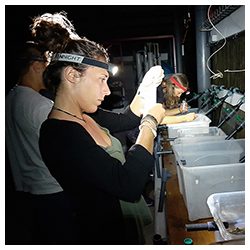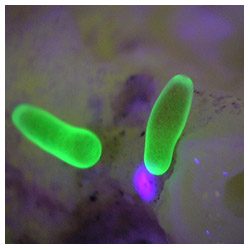 November 2020
New paper in Coral Reefs
Oxygen is a fundamental driver that mediates a multitude of essential processes and interactions on multiple scales on coral reefs. In adult corals, it directly or indirectly impacts physiological processes, such as photosynthesis, respiration and calcification.
In this new paper, we provide evidence that low-oxygen environments can also impact the early life stages of corals. We show that coral larvae of two Acropora species avoid benthic probing in low-oxygen environments. Moreover, when larvae of these two coral species were offered their preferred settlement substrate, the crustose coralline algae Titanoderma prototypum, along an oxygen gradient, they only settled on Titanoderma fragments placed in the oxygen-rich environment. This last result suggests that low-oxygen areas can disrupt the intimate association between corals and crustose coralline algae.
We conclude that coral larvae can sense oxygen and use it as a cue to avoid settlement in unfavorable environments. To our knowledge, this is a first example of oxytaxis in coral larvae.
Congratulations Hendrikje!
Citation: Jorissen H, Nugues MM (2021) Coral larvae avoid substratum exploration and settlement in low oxygen environments. Coral Reefs 40: 31–39
October 2020
Acropora spawning took off at the CRIOBE station
October is the big spawning month for the coral genus Acropora in Moorea, providing exciting research opportunities to study the early life history stages of this genus. This year we got larvae from two acroporid species: Acropora pulchra and A. cytherea. Camille and Maggy ran larval behavior choice experiments with exudates of different species of crustose coralline algae. Chloé and Hugo settled coral larvae on tiles preconditioned at different distances from macroalgae. Settlement rates were great. Next, the researchers will follow the survival of the newly settled corals over several weeks.
We also got coral spawning in November. Here is a cool video of a colony of Acropora hyacinthus releasing egg-sperm bundles :
Video: C. Pozas-Schacre
September 2020
New paper in Coral Reefs
New paper in Coral Reefs shows that the late post-settlement survival of pocilloporid recruits is significantly affected by the presence of crustose coralline algae (CCA) and that there is considerable variability in the outcomes of the interaction between CCA and coral recruits depending on habitat and recruit size.
Contrary to the well-accepted view that CCA facilitate coral recruitment, subcryptic CCA species had a negative effect on the survival of small-sized coral recruits relative to dead CCA control. In contrast, exposed CCA species had a positive effect. By examining the causes of death of the recruits in the experimental treatments, we concluded that, in subcryptic habitats, CCA can reduce the survival and/or growth of coral recruits via direct competitive overgrowth, while, in exposed habitats, they can enhance coral recruitment by alleviating competition with turf algae.
Many coral reef scientists and managers equate CCA (all species) to improved recruitment potential for corals. This paper challenges this view using a robust experimental approach, with important consequences for our predictions of reef recovery potential and the way we manage reefs. Good job Hendrikje!
Citation: Jorissen H, Baumgartner C, Steneck RS, Nugues MM (2020) Contrasting effects of crustose coralline algae from exposed and subcryptic habitats on coral recruits. Coral Reefs 39: 1767–1778
August 2020
Does distance from macroalgae matter to coral larvae?
Chloe and Hugo ran an experiment aiming at testing whether biofilms preconditioned at different distances from macroalgae vary in their abilities to impede coral settlement and recruit survival. Aragonite tiles were preconditioned at different distances from macroalgae for two months in the lagoon of Moorea. To initiate coral settlement, they were placed in glass cylinders filled with seawater together with larvae of the coral Pocillopora damicornis in the laboratory. Settlement rates were estimated after 24h and tiles were replaced in the field to track coral recruit survival after 7 and 15 days. To understand the role of microbes, biofilms were sampled for microbial analyses along with macroalgae-associated bacteria and surrounding seawater. This experiment will be re-launched using coral spawning species next month.
July 2020
On-going experiments in the water and coral larvae
This last two months were marked by the launch of Chloe's second experiment. This experiment aims to assess whether the effects of macroalgae on reef biofilms are algal species- and distance-dependent and whether these effects are associated with reduced coral recruitment. Once a week, Chloe and Hugo spend one day maintaining and monitoring their experiments in the field. For the first experiment (see May 2020 news), work consists in checking coral health state and macroalgae on algal-removed and control bommies. For the second experiment, the team must maintain macroalgal densities on experimental structures. The two experiments will involve specific tests on larvae of the brooding coral Pocillopora damicornis, which are released from adult colonies once a month. This week, the team will estimate the perfect time to obtain coral larvae.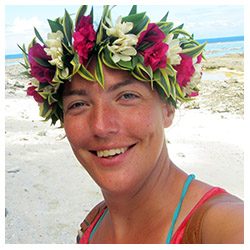 June 2020
Congratulations Dr. Hendrikje Jorissen!
Hendrikje successfully defended her PhD thesis on June 26th after 3.5 years of hard work and dedication. Due to the spread of COVID-19, the defence had to be done using videoconference. It comprised a slide presentation lasting 45 minutes, followed by 2 hours of questions from six jury members. Colleagues, friends and family were able to watch the defence remotely. It's been great working with you. We are so proud of you!
May 2020
Wet again after 2-month pause due to COVID-19
While Chloe's PhD fieldwork was in full progress in Moorea, everything got shutdown with the arrival of COVID-19 on the French Polynesian territory in March 2020. Chloé & Hugo Bischoff, a Master student from the University of the French West Indies, had to stay dry at the CRIOBE lab facilities for two long months. However, fieldwork could start again this month. The team cleaned off experimental bommies from macroalgae which had barely grown back. Transplantation of Pocillopora damicornis colonies on the bommies and methodological testing of chemical sampling and flume chambers are now underway. It feels great to be wet again!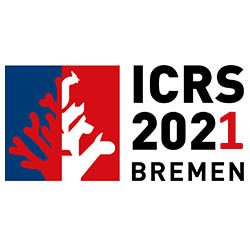 March 2020
ICRS 2020 postponed to 2021 due to COVID-19 | Bremen, Germany
Due to the spread of COVID-19, the 14th ICRS has been postponed to the week of 18 - 23 July 2021. The session "Coralline algae: what are their global contributions to coral reefs now and in future oceans?" co-chaired by Maggy with Christopher Cornwall, Steve Comeau and Guillermo Diaz-Pulido remains in the 2021 ICRS program. We hope to see you at the conference in Bremen, Germany, in July 2021. In the meantime, stay safe and healthy!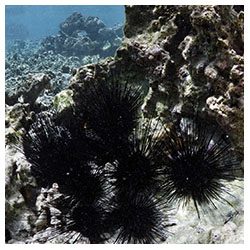 December 2019
TURBOCORAIL field experiment launched
In November 2019, Fabio manipulated sea urchin and Turbinaria densities on coral bommies in the lagoon of Moorea. The experiment will be maintained by Chloé and other students for the next few months. With this experiment, we hope to know whether different levels of urchin grazing pressure can regulate the spread and persistence of stands of Turbinaria and associated algae. Fabio also experimented with algal spores and chemicals to determine how the benthos affects settlement success of the alga. These experiments will enhance our understanding of the mechanisms underpinning the expansion of Turbinaria and, hopefully, strategies for its control.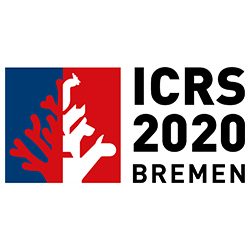 October 2019
International Coral Reef Symposium | ICRS2020 | Bremen, Germany
Maggy is co-chairing a session at ICRS with Christopher Cornwall, Steve Comeau and Guillermo Diaz-Pulido entilted "Coralline algae: what are their global contributions to coral reefs now and in future oceans?" We hope to see you at the conference in Bremen, Germany, on July 5-10.